Falls Downtown 2018: New Home, Better Vibes
Falls Downtown was the perfect way to spend the first weekend of 2018. Across the two sunny, headliner-dropping-out-to-attend-the-Golden-Globes-less days, the diverse lineup delivered vibes on vibes, welcoming the new year in style. Relocated to the Fremantle Oval end of Freo, the festival truly had something for everyone.
Day One
For those who got down early and beat the (super long) queue, the afternoon started off with a one-two punch of pumping acts on the main stages. Confidence Man brought all the energy and kookiness their acclaimed live sets are becoming known for, while DZ Deathrays kept the energy up with their blistering punk rock. For those seeking something a bit more chill to get their afternoon going, local legends and Foster a Band-winners Demon Days opened the Valley Stage with their soulful jazz numbers. The day had only just begun, and already the standard was high.
The first major highlight for me was Alex Lahey. While she may harbour some bittersweet feelings towards our city, she seemed like she was really enjoying her time on the Valley Stage, and the audience reactions were huge. She even slipped in her Like a Version of 'Torn' as made famous by Natalie Imbrigula, which started a massive singalong. Local legends Methyl Ethel also made the most of their home crowd's attention, featuring the one and only Stella Donnelly as bandmate.
Lahey's wasn't the only cover of the festival, many of them Like a Versions. As well as Darryl Braithwaite's absolutely huge rendition of 'The Horses', there was Julia Jacklin's take on 'Someday' by The Strokes, The Smith Street Band's stirring interpretation of 'When You Were Young' by The Killers, and Glass Animals with Gnarls Barkley's 'Crazy' (that I witnessed), all on day one. There was also about half of Peking Duk's set, but more on that later.
Julia Jacklin's set was a welcome respite from the heat and volume of the main stage. Her smooth voice and unhurried instrumentation had the audience in a beautiful daze, dwelling on the meaningful lyrics presented. After a perfectly-timed sprint to the mainstage to join in on 'The Horses' singalong (note: very worth it), I got back just in time for my personal favourite song of hers, 'Eastwick'.
Feeling well and truly relaxed, I went into the Freo streets for a spot of dinner, before heading back to witness The Smith Street Band. Their set was absolutely huge, and Will Wagner's stage presence won over even some of the more sceptical punters in the audience. His meaningful message about support for those battling mental illness was one of many heartfelt messages from acts across the weekend.
Angus & Julia Stone were next to serenade the mainstage. While I didn't witness their set (having already had the pleasure of seeing them live), I heard from multiple attendees (and snap stories) that they were wonderful. Instead, I elected for an artist I knew little of, and was quite surprised by the result. DRAM put on an immensely fun show, beaming from ear to ear the entire time as he asked who in the crowd loved their mumma and told us all to 'spread love!' Of course, 'Broccoli' went off, prompted by DRAM telling us all to 'pretend this is the first time you ever heard it.'
Glass Animals are huge in Australia, and for good reason. They put on a charged set, with frontman Dave Bayley clearly embracing the big reactions from the audience. Songs from their latest album How To Be a Human Being are particularly suited to festival crowds, while cuts from Zaba allowed some attendees to show off their moves. They made the most of their time, and informed us that they were about to head back in the studio, prompting a big cheer.
Fleet Foxes' set was pure magic. With three classic albums up their belt, they mixed their more challenging songs like 'Mearcstapa' with singalongs like 'White Winter Hymnal' and 'Mykonos'. Fans of their earliest material were well treated, with five songs from their self-titled debut featured (Helplessness Blues and Crack-Up scored three and four songs, respectively), and deep-cut 'Drops in the River' was a welcome surprise. Despite their intricate arrangements, the band sounded as perfect live as on record. They were by far the least talkative of the acts ('Thank you' and 'Thank you so much guys' was the extent of their crowd interaction), but their music said the most.
Flume is about the safest choice for a festival headliner any Aussie festival can make, but not without reason. His catalogue is stacked with bangers, and he treated the audience to a ton of them, plus a remix or two. While playing the songs mostly as they are on record, his one-of-a-kind light show and magnetic stage presence elevated his set. I was slightly disappointed he didn't bring out Dave from Glass Animals for their collab 'Fantastic', but he managed to play a bunch of crowd favourites, from 'Insane' and 'Lose It' to the ubiquitous 'Never Be Like You'. Flume isn't going away any time soon, but who's complaining?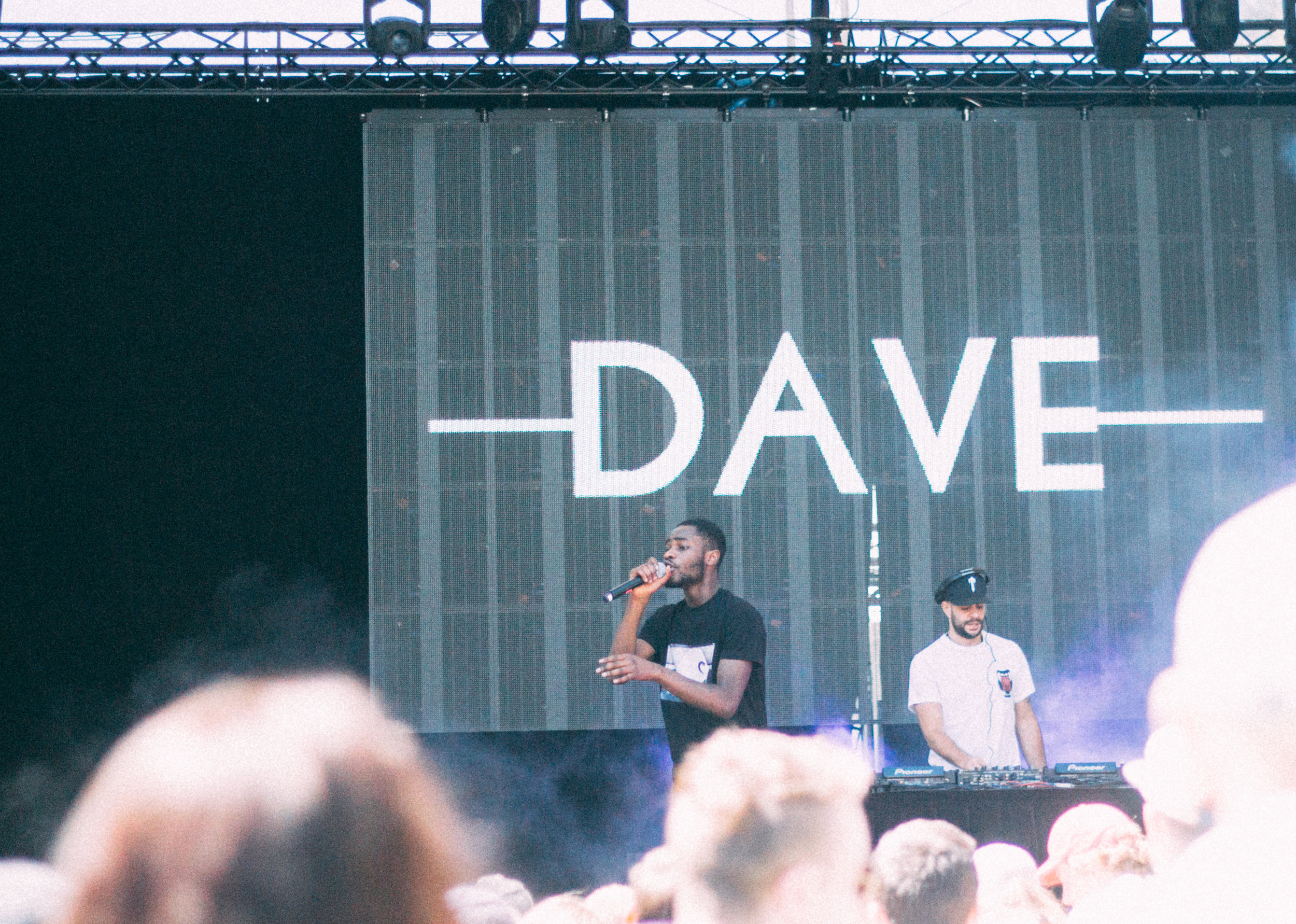 (Photos by Thomas Manson)
Day Two
Sunday kicked off with two of the loudest acts on the bill, with Ecca Vandal's noise-pop and Aus-core courtesy of Bad//Dreems. For those seeking something more chill to ease into the afternoon (or maybe cure a hangover), Perth local Elli Schoen kickstarted the Valley Stage to a small, but enthralled crowd.
The second day was dominated by maximalist, danceable indie electronica. Everything Everything set this tone early, with their oddball pop nonetheless going down a treat with punters. 'Desire' and set-closer 'Distant Past' particularly got the crowd going. Later in the day, English seven-piece Jungle got their grooves on with their chilled out take on soul music. Over at the Valley Stage, Total Giovanni fit the bill with their disco-infused beats and catchy melodies.
Following Everything Everything were Dune Rats, who seem to be loved and hated in equal measures. Their Falls set made the reasons for both abundantly clear. With giant inflateable tinnies, three-chord punk songs about drugs and alcohol and a backdrop featuring stoned caricatures of the band, Dune Rats put on a very Dune Rats-y show (also featuring Drapht). This is either a really good or really bad thing, depending who you ask.
What was undeniably good, though, was Camp Cope's set. With a Valley Stage audience that put some of the main stage crowds to shame, Camp Cope powered through their set with gusto. As well as the gift of their music, Camp Cope also presented many audience members with shirts donning a message demanding action against sexual harassment. Prompted by the sexual assault of a punter at the Lorne leg of the festival, many of the acts were donning such shirts, and/or adamantly speaking against such horrid acts (Killer Mike of Run the Jewels was especially animated on the topic). Such words were lost on some ears, however. Even during Camp Cope's set I heard whispers of one jerk milling about attempting to force female patrons to kiss him, with the sight of security guards scanning the audience seemingly confirming this. Enough is enough.
Enigmatic MC Vince Staples put on a fiery set on the main stage, flawlessly rapping his songs while commanding the (mostly) obliging audience to jump, scream and dance. Perhaps he wasn't quite getting the reaction he wanted, or maybe he was just tired, but it did feel like he wasn't fully invested. Still, even when he is slightly off his game, Vince Staples is still one of the best live rappers around. Afterwards, I managed to catch the end of Luca Brasi's set. The Tassie punks were in fine form, and their take on Paul Kelly's 'How to Make Gravy' went down a treat.
Oasis songs were by far the highlights of Liam Gallagher's set, amongst them 'Cigarettes and Alcohol' and (of course) an acoustic rendition of 'Wonderwall' to bring about a festival-wide singalong. While touring a so-so new album (in my opinion), he managed to put on a solid "rock 'n' roll" show, while being very Gallagher about it all.
Hungry punters were spoiled for choice at this year's festival, with everything from seafood to greasy American food to pizza. My burger from the Herbivan was delicious, and Foster the People's set was a good accompaniment. While dipping into a whole range of sounds, Foster's set was kept together by frontman Mark Foster's huge personality. They were real crowd-pleasers, with their penultimate song 'Pumped Up Kicks' of course drawing the biggest reaction, followed by an impassioned and earnest plea for unity in the politically damaged landscape of 2018.
When your set begins with not one, not two, but THREE pre-recorded introduction videos, you better have the chops to pull it off. Instead, what Peking Duk provided was just a glorified DJ set, and a pretty average one at that. And I don't mean that in an old-man-yells-at-cloud, only-rock-is-real-music way; they literally played a LOT of other people's songs from their decks, barely touching their live instruments and own back catalogue. It felt a bit cheap to me, especially given it was billed as a live set, but maybe I'm just being too cynical. For those who were more interested in ~good vibes~ than live music, Peking Duk were probably just about right.
At the same time (and far more interesting, in my opinion), local up-and-comer Carla Geneve played a fantastic set in a tiny little shipping crate the size of a bedroom. This was one of the coolest extra-curricular activities on offer; with a whole bunch of local acts (such as Grievous Bodily Calm, Lucy Peach and Jack Davies and the Bush Chooks) performing in these rooms between the Main and Valley stages. It would have been nice to have some of these other attractions more advertised; I didn't even realise that there was a whole line-up of comedians, or that there was a strip of local stalls, until I did a whole lap of the site.
The Kooks were a sure hit for fans of mid-2000s indie rock, prompting a whole ton of, 'Oh, I know this one!'-s from unsuspecting crowd members. 'Seaside' and 'Be Who You Were' particularly drew big reactions. Frontman Luke Pritchard was a real showman, with his charming personality winning over nearly everyone in ear-distance, even those who joined me at the Run the Jewels-side of the stage.
And speaking of Run the Jewels, nothing could have prepared me for the explosive hour that followed. Walking on stage to Queen's 'We Are the Champions', RTJ proved just that. With flawless performances and banging beats, the duo had the mosh sweating and jumping and right in the palm of their hands. An un-prompted mid-set chant of "R-T-J" had the duo smiling appreciatively for a solid minute or so, proving the adoration of the hard-core fans in the audience was well and truly met. All three self-titled studio albums had their moment, and even 'Nobody Speak' (a collaboration with DJ Shadow) was dropped. After RTJ3 intro "Down" ended the set proper, calls for an encore were graciously met with 'A Christmas F****ing Miracle'. Throughout, Killer Mike and El-P demonstrated passion and skill, and ended the Festival on the highest of highs.
(Photos by Thomas Manson)
Falls Festival had something for everyone. A line-up with depth, an aesthetic location, plenty of glitter and food and much more was all readily available. And from what I could tell, the sold-out crowd ate it all up.